* TRACK LOCATORS-WHEELIE BARS-
-CROSSMEMBERS-PEDALS-
-MISCELLANEOUS-
(on this pg.)
* TONS OF BUSHINGS-SPACERS-
ROD ENDS-BOLTS-NUTS-WASHERS
* A VARIETY OF BRACKETS
* BRAKE ITEMS, SPANNER WRENCHES,
AND DRIVESHAFT LOOPS








WISHBONE TRACK LOCATORS: Look just like a
wishbone. They are the best for all 4-link
applications whether competition or pro
street. They keep your rear on center but
do not put a load on the 4-link, such as with
a diagonal type, and work independently of
the 4-link. This type is used not only in
drag racing but in other motor sports as
well. Our wishbone track locators come
standard with space-age plastic snap-in
bushings. No metal to metal and no greasing.
Easily replaced too!!


DIAGONAL TRACK LOCATOR: This is situated between
ladder bars in a diagonal position (as illustrated
in our ladder suspension kit.) For competition use
only! Watch out!! Unlike our mega quality
locators, some track locators can bend!!!


PANHARD BAR TRACK LOCATOR: This is a link that is
fastened to the frame on one side of the car and
runs to the opposite side while being fastened to
the rear, (used by most car manufacturers on cars
with coil spring suspensions.) Some chassis
builders are offering panhard bars for pro street
applications. If it's not bad enough using
competition ladder bars on the street, the
problems are made even worse when using a panhard
bar in conjunction with them!! Since a panhard bar
works on an arc, it actually pulls the rear from
side to side when it moves up and down. If you
have competition ladder bars with solid rod ends
in the back, the panhard bar is actually trying to
pull them in a manner in which they are not
designed to move, actually causing a binding
effect. The result is a harsh ride, maybe a broken
part. The only way you should use a panhard bar
with ladder bars is if the ladder bars are urethane
bushed and panhard bars are also urethane bushed,
such as in our pro street kits. This allows the
rear to work in conjunction with the panhard bar.



PRO STREET WISHBONE TRACK LOCATOR

*CUSTOM PRO-STREET WISHBONE*
-GREAT FOR PRO STREET, STREET ROD, AND
NOSTALGIA. CUSTOM BUILT PER ORDER.
THIS TRACK LOCATOR IS MUCH LIKE
THE COMPETITION MODEL ACCEPT
MADE WITH THICKER TUBING FOR
STREET USE.
(dimensions to be supplied by customer)
(plain finish)
**
Part#7310.........$334.95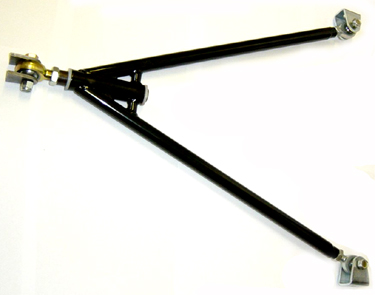 COMPETITION WISHBONE TRACK LOCATOR


*CUSTOM WISHBONE*
FORWARD OR REVERSE DESIGN.
ROD ENDS PROVIDE VERY
POSITIVE TRACK LOCATING.
WELDED OR UN-WELDED-
(welded..dimensions to be supplied by customer)
(plain finish)
**
Part#7311...........$334.95



***
* "UNWELDED" version,
Part#7312.......ONLY...$174.95
**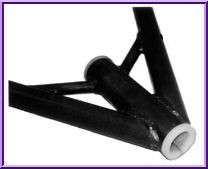 SNAP-IN BUSHING



-QUIET!! AND REPLACABLE TOO!! NO GREASE. FEATURES LONG WEARING
SPACE-AGE PLASTIC SNAP-IN BUSHING. STANDARD ON ALL OF OUR
WISHBONE TRACK LOCATORS.-
(an AUTO WELD exclusive!)
**
Part#7315........$23.95




"WELD-ON TRACK LOCATORS"
Includes all hardware,
weld-in threaded bungs,
rod ends,etc.


-DIAGONAL TRACK LOCATOR KITS USED IN DIAGONAL CONFIGURATION
BETWEEN COMPETITION LADDER BARS AND 4-LINK SUSPENSION. KEEPS
REAR HOUSING LOCKED ON CENTERLINE THROUGH SUSPENSION TRAVEL.
NOT RECOMMENDED FOR STREET DRIVEN CARS AND TRUCKS!!-



*part#7330.. 30" LONG, ONLY...$85.50
*part#7331.. 36" LONG, ONLY...$85.50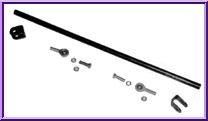 BOLT-ON TRACK LOCATOR


-This locator can be used on our competition
ladder bar kit OR our competition 4-link kit.-
(MUST SPECIFY using ladder bar or 4-link)



*part#7332.. DIAGONAL KIT, 30" LONG...$89.50
*part#7333.. DIAGONAL KIT, 36" LONG...$89.50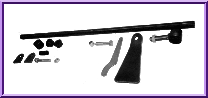 PRO STREET PANHARD BAR


-Can be used with any suspension type,
including Pro Street Ladder Bar, all
4-links, and EVEN OEM type suspenions.
Very positive and strong!!-



*part#7334.. 30" LONG, ONLY...$92.50
*part#7335.. 36" LONG, ONLY...$92.50






AUTO WELD's
**
"PRO WHEELIE BARS"
**
**CUSTOM WELDED PRO "K" FRAME**
AND
**STANDARD AXLE TYPE**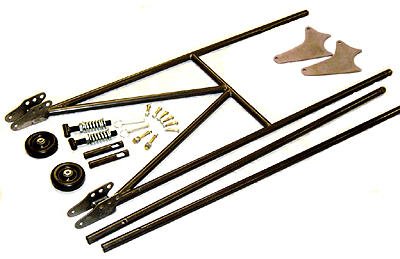 "CUSTOM WELDED"
PRO "K" FRAME
WHEELIE BARS (above)
FEATURES:
*Light Weight Chrome Moly Tube Construction
*Height Adjustment (coarse and fine)
*Spring Load Ajustment
*4" (ball bearing)Wheels
*54" length
* Any Width (main body completely welded)
***
*Wheelie bars (plain finish)
Part#7402.......$417.95
*
*Wheelie bars (powder coated)
Part#7403.......$466.95
**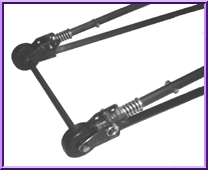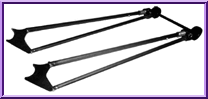 OUR AXLE TYPE WHEELIE
BARS COME W/"EXTRA"
LOW PROFILE BRACKETS.
48" OR 54" LENGTHS,
SPRING LOADED, FULLY
ADJUSTABLE, PLAIN OR
POWDERCOATED, AND ALL
CHROMOLY TUBE
CONSTRUCTION.
**
Wheelie bars (plain)
*part#7400....... $339.95
**
Wheelie bars (powder coated)
*part#7401.......$386.95
**









UNIVERSAL TRANSMISSION
CROSSMEMBER KIT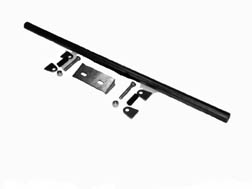 *part#7300.. ONLY...$69.95


*CROSSMEMBERS*
2x3 RECTANGLE & 1 3/4 ROUND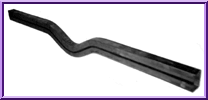 -FOR CUSTOM INSTALLATION!! GREAT
FOR CUSTOM BUILDING A CHASSIS.-
**
2x3x11ga STELL TUBE CROSSMEMBER
Not from the .083 wall "chintzy" stuff!!
length...60" ...ABOVE

** 2X3 X-MEMBER,3" DROP
Part#7504.......$75.95
**
** 2X3 X-MEMBER,2-1/2" DROP
Part#7505.......$75.95
*****
OTHER DROPS AVAILABLE!
*****
1 3/4" ROUND STEEL TUBE CROSSMEMBER
3 1/4" drop, Part# 7520....$56.50
length...52"....BELOW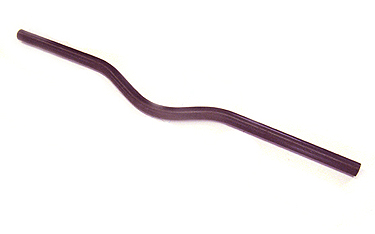 BOX TYPE LADDER BAR XMEMBER KITS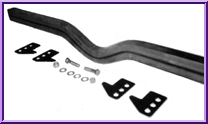 -FOR CUSTOM INSTALLATION. COMPLETE
WITH 2X3 BOX STEEL TUBE XMEMBER,
BRACKETS, BOLTS, & HARDWARE.-
**

** COMPETITION
Part#7500.......$125.95
**
** PRO STREET(W/LONGER BOLTS)
Part#7501.......$126.95




ROUND TYPE LADDER BAR XMEMBER KITS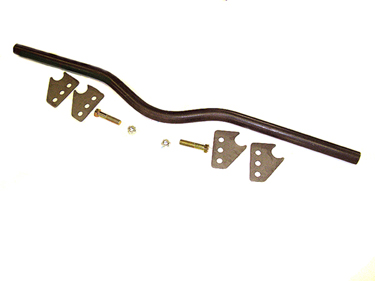 -USED IN ALL OF OUR LADDER BAR KITS.
1-3/4 X .134 WALL TUBE, BRACKETS,
BOLTS, & HARDWARE.-


** COMPETITION
Part#7502.......$101.95
**
** PRO STREET(W/LONGER BOLTS)
Part#7503.......$101.95






GAS PEDAL


-FOR RACE CHASSIS AND CUSTOM
APPLICATIONS. POWDERCOATED.

*part#7525.. ONLY...$49.95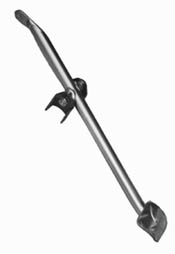 BRAKE PEDAL


-INCLUDES ALL HARDWARE AND ALUMINUM
MASTER CYLINDER PUSH ROD.-


*part#7526.. ONLY...$84.95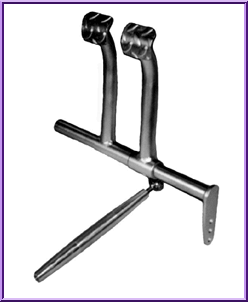 BRAKE AND CLUTCH PEDAL COMBO


-FOR RACE CHASSIS AND CUSTOM APPLICATIONS.
INCLUDES ALUMINUM MASTER CYLINDER
PUSH ROD. POWDERCOATED.-


*part#7527.. ONLY...$154.95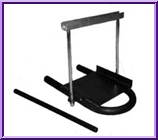 WELD-IN BATTERY MOUNT


-DESIGNED FOR DRAG RACING. COMPLETE
WITH 3/8" LEGAL BOLTS AND SAFETY LIP
FOR INCREASED BATTERY STABILITY.-


** RH-MOUNTS ON PASSENGER SIDE FRAME
Part#7530.......$49.95
**
** LH-MOUNTS ON DRIVER SIDE FRAME
Part#7531.......$49.95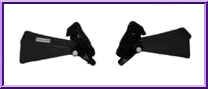 CHEVY MOTOR MOUNT


-FOR STREET RODS OR CUSTOM APPLICATIONS.
SET INCLUDES (2)INSULATORS AND (2)
UNIVERSAL STEEL MOUNTING BRACKETS.-


*part#7550.. ONLY...$84.95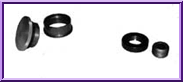 ---
HOME | back to top